Active Pneumatic Suspention System

MAPS series

MAPS makes it possible to eliminate the vibration of frequency band width which passive system cannot.

Unit type active vibration isolator
Business Fields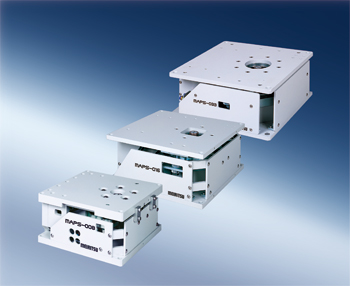 Features
Though MAPS has compact size, it can isolate the vibration of six degrees of freedom
Each unit of MAPS series provided by Meiritz has two air pressure actuators:one for the vertical, another for the horizontal.
Using MAPS, you can experience excellent performance of vibration-isolation, vibration suppression and precise positioning.
MAPS makes it possible to eliminate the vibration of frequency band width which passive system cannot.
It often occurs that resonance due to the natural frequency causes a trouble in passive isolation system. The resonance increases magnitude of vibrations three times or more. But the resonance can be removed by using MAPS. And it is possible to get excellent isolation performance in this frequency area. For example, vibration of 2Hz near the resonance of typical passive isolation system can be eliminated to less than 1/30-1/100 in comparison with most of passive isolation systems.
A device of ten tons or more can be isolated from vibrations by a standard type of MAPS
The recent precise machine shows a tend-ency of becoming large caused by the functional fulfillment. Some devices already have 10 tons or more in the total weight. It has become difficult to keep the structural natural frequency of the device high because of the enlargement of the device. This is one of the reasons why active vibration isolation system which has excellent performance in the low frequency is necessary.
It is steady even if a device on which stage works is carried.
If a device has some movements made by X-Y stages for example, the device swings in the big amplitude, and the vibration is
enlarged on passive isolation system such as air mounts or rubber mounts. The swings can be made small on active vibration
isolator because it is feedback-controlled to keep the position stable. And, if the movement of the stage can be outputted as an electric signal in advance, it is possible to get an environment which hardly swings because MAPS can be feed-forward cont-rolled so that the swings may become the smallest.
MAPS is excellent in accurate positioning and precise leveling.
When the size of a device becomes large, inclination causes a trouble, too. It leans and sags when it inclines because of its heaviness, and the precision is affected remarkably. MAPS makes inclination small, and can keep the precision in good condition. For example, MAPS makes the smooth delivery of wafer or LCD panel possible.

All types of MAPS are easy to install.
We listen to the customer's request, and make all the functions which should be necessary crowded in MAPS series. It only needs small space to install MAPS , and you can get an environment which isn't influenced by vibration. Because the control system of the MAPS series is very stable, we can handle you MAPS series confidently not only as an equipment of your factory but also as attachments to the products for sale.
MAPS is one of the important parts which compose your precise devices.
It seems that there are a lot of customers who use vibration isolation devices only from anxiety to the vibration. When high precisionization, high function, and enlargement are proceeding today, an environment with no influence of vibration is necessary to show the full performance of the device described in the specification sheet. Vibration isolation device is one of the indispensable parts to construct a system of the precise machine rather than the assistant device.
Make contact with us when you start development.
MAPS series has all the functions which are necessary for vibration isolation, positioning, and leveling. And it doesn't need a large space to install. Even after development of a device is completed,
MAPS can be assembled into the device. But, in that case, various restrictions often come out. And this is not a good method from neither vibration isolation performance side nor cost. When development of a new device is begun, we would like to hear your ideas about the device, and would like to start arrangements about the installation space of MAPS, vibration isolation performance, and the positioning precision which should be necessary. Your vibration environment can be drawn to the ideal by adopting this way that we recommend.
Specifications
Model
MAPS-008
MAPS-016
MAPS-033
Payload Range [kgf]
400~800
800~1600
1600~3300
Dimensions WxDxH [mm]
235x235x130
295x295x140
350x350x150
Mass of a Unit [kg]
13
42
63
Supplied Air Pressure [MPa]
0.6 - 0.8 (Dry Clean Air)
Typical Air Consumption [l/min]
45 - 65
Maximum Air Consumption [l/min]
120
Power Supply Voltage [V]
100 - 240 (AC, 50/60Hz)
Maximum Power Consumption [VA]
180
Positioning Tolerance [mm]
0.001 - 0.050
Active Degrees of Freedom
<=6
Model
MAPS-065
MAPS-130
MAPS-240
Payload Range [kgf]
3300~6500
6500~13000
13000~24000
Dimensions WxDxH [mm]
450x450x190
600x480x190
700x600x267
Mass of a Unit [kg]
110
180
230
Supplied Air Pressure [MPa]
0.6 - 0.8 (Dry Clean Air)
Typical Air Consumption [l/min]
120 - 170
Maximum Air Consumption [l/min]
300
Power Supply Voltage [V]
100 - 240 (AC, 50/60Hz)
Maximum Power Consumption [VA]
180
Positioning Tolerance [mm]
0.001 - 0.050
Active Degrees of Freedom
<=6
Product Inquiry
Complete the form below and press the submit button.*We will respond via email as soon as possible.